It can't be said too often: Your work and passion for your students' futures are vital and appreciated.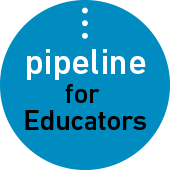 And Pipeline offers you a range of programs and resources to help you help your students explore, understand and refine their career options. You already know that even without four years of college, there are lots of great jobs with great pay available. Pipeline enables your students to explore the possibilities, whether through Trades Academies, specific skills classes at high school Summer Academies and specialized training at Linn-Benton Community College or tailored internships. We create the link between your classroom and a wealth of opportunities.
There are several options.
Encourage your students to attend a career day. Workplace tours allow students to engage with the work and the possibilities in ways that can't be done in the classroom.
You can partner with Pipeline to bring local businesses and their workers into your classroom. As you know, many students are unaware of the wide array of great careers out there, and classroom presentations broaden their sense of possibility and help them make better-informed decisions about their future.
Explore in-depth options for your students, including internships, mentorships, apprenticeships and other career-education possibilities.