Want a great job without four years of college?
OK—you just took the first step.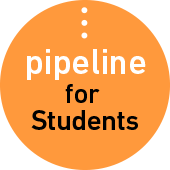 Great local jobs are out there. Lots of them. In fact, local companies are planning to add over 1,000 highly-paid employees over the next five years. And most of the good jobs in the new economy DON'T require a four-year college degree—or four years of college debt. What they DO require is advanced training and specialized skills beyond your high-school degree. Maybe that's a certificate, or maybe a two-year program at a community college, or maybe employer-sponsored training—Pipeline will help you find the sweet spot that puts you on the most direct line from school to a rewarding job with a bright future.
Why Pursue Skilled Jobs?
Less Time In School
"Middle-skill" jobs are those that require some training beyond high school but less than a four-year degree. So you can spend a short amount of time learning the skills you need, and soon be working in your new career.
Avoid Massive Debt
Earning a four-year degree is an expensive commitment, and for many careers it's simply not necessary. A four-year college degree can cost $25,000 more per year than a technical school certificate1. Watch highlights from the documentary Broke, Busted, & Disgusted to learn more about the current state of student debt in America.
Get Hired
Skilled jobs make up the largest part of the labor market in the United States, and in each of the 50 states2
10 million new skilled workers will be needed by 20201
600,000 skilled jobs are going unfilled1
83% of companies report a moderate to serious shortage of skilled workers and 69% expect the shortage to grow worse in the next 3-5 years1
Live Comfortably
Skilled jobs pay well, more than minimum wage, and many offer benefits and opportunities for advancement. In 2014, the average manufacturing worker in the United States earned $79,553 annually (including pay and benefits), or $25.19 per hour (not including benefits).3
What You Can Do
No matter what your age or amount of experience, there are things you can do now to help prepare for your future career. Are you a student in or near Linn County, Oregon? Select your grade level for specific opportunities that may be available to you.
Career Exploration Clubs provides an opportunity for students to spend one hour a week for five weeks with a variety of local employers and organizations. They get first-hand exposure to a variety of career and volunteer opportunities. Employers provide general information about their jobs, required skills, education and training requirements.



Makers Club students are learning to build things from scratch, or rather, they are using scratch programming (blocks of pre-written code) to make traffic lights, LED reader boards, alarm systems and drawing bots. Kids meet to learn high-tech skills, such as Arduino programming that they are applying to both small and ambitious projects that meet their short- and long-term project goals.
Tours of LBCC & OSU Campuses offer a look at higher education. Visiting campus and learning about the programs and classes offered can help you experience what it would be like as a student, learn about possible fields of study, and inform future decisions.
Career and Technical Education (CTE) classes give you the chance to get a head start on preparing for college and careers. In CTE programs you can gain the skills, technical knowledge, academic foundation, and real-world experience you need to prepare for a high-skill, high-demand, high-wage career. Investigate elective options that are available through your school.
Job Fairs provide an opportunity to meet with employers and learn first-hand what they're looking for when they hire. You can also practice important skills like building a resume, participating in interviews, and networking with people in your field of interest.
Employability Grades are given to South Albany High School Students as a prediction of success in the workplace. These numerical scores are based on how well students work cooperatively and complete tasks, combined with the records the school keeps on attendance, tardiness and behavior referrals. Achieving a high employability grade can indicate your readiness for responsibility as an employee.
If you're out of high school and looking to further your education, Linn-Benton Community College offers classes and programs in skills that are in-demand by local employers.
Did you know that you can get paid to learn? There are local businesses that will pay for their employees to be trained or go to school and learn what is needed to succeed. You can contact us to learn more.
Real Life Experience
Whether you want to learn more about a career, network with employers, or gain some skills, it helps to get hands-on experience in the field.
Learn Skills
Career and Technical Education (CTE) classes give you the chance to get a head start on preparing for college and careers. CTE programs help you gain the skills, technical knowledge, academic foundation, and real-world experience you need to prepare for high-skill, high-demand, high-wage careers.
Hands-on, project-based learning approaches in STEM and CTE improve graduation rates. In 2014, 85.7 percent of Oregon students who took one or more CTE credit graduated from high school compared to 72 percent in the overall student population.4
During the 2015 session Governor Brown and the Oregon Legislature doubled investments ($41 million total) in STEM and CTE, programs that create hands on learning opportunities and put additional pathways in place to smooth the transition to the world of work.4
15 of the top 20 of the fastest growing occupations involve STEM/CTE skills. These occupations boast high-wage jobs and create important opportunities for both individuals and communities to prosper.4
Job Shadow
Job shadowing provides an opportunity for you to spend time at a business site.  Employers introduce you to potential careers by allowing you to observe the jobs of employees by shadowing their daily routines and activities.  Shadowing provides you with a look at the work and the range of career opportunities available.
Internships
Internships are an arrangement between you and a business, that outlines the skills you are expected to learn and demonstrate for the benefit of the company and your education.  These experiences can be paid or unpaid, and your school may allow you to receive academic credit with additional paperwork.  The hours worked, and goals and objectives are determined by you and your supervisor.
Volunteering
Volunteering allows you to "try on" various roles while providing services to the community.  It demands responsibility and commitment, and it challenges you to participate in and contribute to the welfare of your community. And in some situations volunteering can lead to a future job offer.